---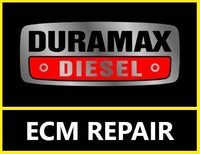 LB7 ECMs are prone to corruption or often times in a locked state. This will prevent tune files from being loaded or in some cases cause the vehicle to be inoperable.
We are usually able to repair the ECM so that it will accept a re-flash.
This service requires customers to ship their ECM to our shop for repair first, or you can purchase a core ecm for an aditonal $350.00 and then return your core to us for credit....NOTE : NO CREDIT WILL BE ISSUED UNTIL WE HAVE REPAIRED THE CORE ECM RETURNED TO US AND VERIFIED IT IS GOOD, THIS MAY TAKE BETWEEN 20 AND 30 DAYS.


SHIP USPS ONLY TO THE FOLLOWING P.O. BOX
MSC SERVICES
P.O. BOX 1781
JOHNS ISLAND, SC 29457
*
THIS SERVICE DOES NOT SHIP ANY REFURBISHED ECM PRIOR TO RECEIVING THE ECM FOR REPAIR AT OUR FACILITY UNLESS A CORE IS PRE-PURCHASED FIRST..
We can only repair locked/bricked ECM's.

*
*We do NOT repair broken plastic or other physical defects on the ECM*